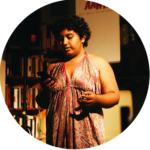 Below is a little bit more about my specific work and philosophy. If you'd like to read more of my writing, please check out my personal blog, The Cowation. If you're looking for Project As[I]Am, the Asian American social justice publication, have no fear – the link's right here.
Quick Links:
To Contact or Book Me
Find Me on Social Media – Twitter, Tumblr
Writer
My work explores how identities – among them race, gender, class, sexuality, and their intersections – are politicized and how we navigate social systems in an imperfect world. To this end, I have written pieces that reflect some of my own identities and interests including LGBT Muslim organizing in the US, mental health in the South Asian community, and transnational adoption. My short stories and articles have been published in The Atlantic, CultureStrike Magazine, The Rumpus, and AAWW's The Margins among others. I am a 2016 Kundiman fellow and have been the recipient of writing grants from 4Culture and Artist Trust. I spent 2015 traveling and researching for my debut novel, which explores intergenerational trauma, Bengali folklore, and borders – both literal and metaphorical.
I also make and talk about zines quite often. You can listen to some of my zine readings on my Publications & Appearances page.
Editor
In 2012, I founded the online Asian American social justice publication, Project As[I]Am. Since then we have grown to a staff of 7 and have worked with over 80 contributors to produce work that challenges mainstream narratives around Asian Americans and their communities. I am committed to uplifting underheard voices and promoting the work of emerging artists. Through this project, I have gained the valuable experience of working with a contributor from first pitch to final draft, built supportive relationships with staff, and developed technical skills such as audio editing for our podcast Drop That Hyphen.
Check out our work at the magazine's website, and follow us on Facebook and Twitter.
Doula:
I had the honor of training and working as a full-spectrum (birth and postpartum) doula with Ancient Song Doula Services, who provide doula services primarily to women of color and low-income populations in New York City. I am currently starting my own independent doula business in Seattle. You can find more specific information about my services at my doula page.
As a doula, I wear many hats – I am a planner, a patient advocate, a comfort-provider, and an educator. Above all, I am at the service of the parents which I am working with. My work is devoted to supporting my clients and providing services to underserved communities such as queer and trans parents and/or those who cannot afford to access a doula. My philosophy is more full articulated in this post on being an activist doula-in-training, written while I was training with Ancient Song. I am pleased to also coordinate the Birth Doula Services program with Open Arms Perinatal Services in Seattle, an organization that offers free of cost doula services.
I have also completed over 100 hours of domestic violence response work as an advocate and attend ongoing trainings on trauma-informed care.
Educator
I offer workshops, speak at conferences, and organize events on topics ranging from writing complex characters of color to sexual health education. I have worked as a peer health educator with Well Woman at Barnard College, a dean with the women and girls' empowerment organization Sadie Nash Leadership Project, and as an independent speaker and facilitator at conferences throughout the United States. You can see a complete list at my Publications & Appearances page.
My teaching style centers on participatory learning and engagement. Every participant has something to offer, and the facilitator's role is to tease that out. I specialize in anti-oppression trainings, writing workshops, and health education. If you would like to book me at your next event, don't hesitate to send an email.